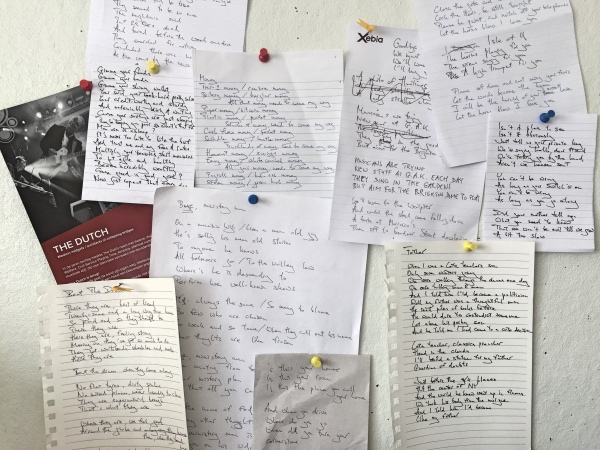 In de tachtiger jaren grossierde ik, om met Heere Heeresma te spreken, in zwaarmoedige verhalen voor bij de centrale verwarming. Ik las boeken over de gevangenisopstand in Attica, over de ontwikkeling van de atoombom in het Manhattanproject en over de grenzen aan de groei. Al die sombere wijsheid vond zijn weg naar mijn songteksten. Eerlijk gezegd had ik die "dirty job" liever aan mij voorbij laten gaan. Bij The Dutch gaat de muziek weken, soms maanden, vooraf aan de tekst. Ik beschouw de tekst als een wormvormig aanhangsel. Maar als het dan toch moet is het mijn eer te na om me er met een jantje-van-leiden vanaf te maken.
De tijdgeest had mij flink bij de lurven. "Wur doomed!" riep ik soldaat Frazer uit de BBC serie Dad's Army na. Niet letterlijk, maar verstopt in zinnen als:
Medicin midgets
Architects of collapsing bridges
Science masters
Every trick in the book of disasters
Standard errors are
Beastly terrors to
Thorough masterminds
Nu wil je natuurlijk weten of mijn teksten nog steeds vol maatschappijkritiek zitten. Bestaat dat woord eigenlijk nog? Hoe dan ook, ik kan het niet laten. Ik voel me bij van alles en nog wat betrokken en maak me kwaad: over het stompzinnige populisme van rechts en van links, over het gemak waarmee we onze privacy inleveren voor een beetje schijnveiligheid, over het giftige duo dom & mondig dat de sociale media overwoekert. Misschien is Left Of Center de tekst die het allemaal samenvat:
If you could read my mind you would probably stop halfway
If you would know my kind you would hear what the neighbours say
His hedge is far too tall
It looks as if he is hiding
If you would count my likes you would probably find a clue
If you would see my strikes then you'd pitch me a ball or two
I hear you say that I´m blind
Blind enough to be watching
Everyone else in the world turning right, but I´m
Left of center
Maar schrik niet, er is meer. Ik schrijf nu ook voor mijn lief (Isle Of U) en over mijn kinderen (Beat The Drum). Dat zijn persoonlijke teksten van het soort waar ik me, beducht voor cliches, zoveel jaren geleden niet aan waagde. Nu ben ik denk ik meer ontspannen. Ach ja, ouder en wijzer nietwaar. En sentimenteler, niet te vergeten. Dolly Parton brengt mij tegenwoordig met gemak aan het huilen. Om over het openingskoor van de Mattheus Passion maar te zwijgen.
Ik hoop dat ik er op de nieuwe plaat in ben geslaagd een paar teksten te zingen die ertoe doen. Dat moeten anderen maar beoordelen. Ik ben vooral trots op een ode aan Berts en mijn vader. Han Croon overleed in 2001. Hij vond onze muziek maar zozo. Maar hij was een wijs, lief en door en door beschaafd mens. Ik denk heel vaak aan hem, zoals hij met een groep muitende gymnasiasten door het Leidse Oudheidkundig Museum wandelde, de onverstoorbaarheid zelve. Of zoals hij met zijn parmantige zoontje keuvelde over de voor- en nadelen van een politieke carrière.

Father
When I was a Latin teacher's son
Only seven winters young
We were walking through the dunes one day
We were talking man to man
And I told him I'ld become a politician
Well my father was a thoughtful man
He read piles of books before
He would dare to contradict someone
Let alone his perky son
And he told me I had come to a wise decision
Latin teacher, classics preacher
Head in the clouds
I'll build a statue for my father
Guardian of doubts
Just before the 9/11 planes
Hit the center of New York
And the world he knew went up in flames
We took his body from the morgue
And I told him I'd become like my father
Latin teacher, classics preacher
Head in the clouds
I'll build a statue for my father
Guardian of doubts
© Hans Croon
26 mei 2016
---