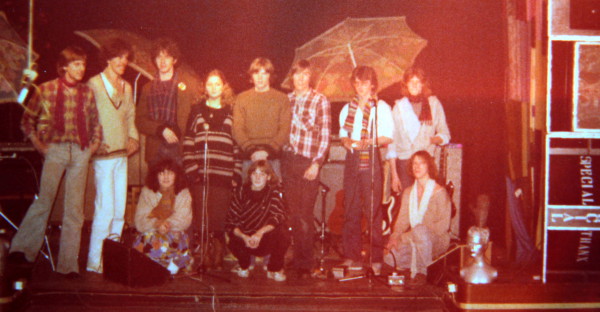 Special Thanx chorus line, Sinkkasten, Frankfurt, 1976

Special Thanx was a symphonic jazz rock group. The zeitgeist of the mid seventies dictated instrumental songs, preferably in 7/8 meter, with long drawn-out solos and tempo changes at unexpected moments. The term "prog rock" did not exist yet, but would have been appropriate: we found ourselves very progressive. Adorned with long scarves, porkpie-hats and sweaters, we played in the Last Waterhole (which still exists in Amsterdam, though on a different spot) every two weeks. Our media policy too was progressive. Never would we lip-synch in tv shows like TopPop, and we were inclined to be extremely selective which newspapers would be allowed to interview us. I'm not saying the media was interested in Special Thanx, but just in case, our policy was clear. By the time the double live LP we aimed for would appear, that would come in handy.
Besides Klaas, Jan, Bert and me, two other musicians completed Special Thanx. Frans Heessels played guitar and Huba de Graaff, then named Huberte, the violin.
There was not a shred of doubt, this band would conquer the world. Manager Dirk shared this ambition and at some point organised a tour of Germany. There would be three gigs in three cities in Hessen: Frankfurt, Offenbach and Darmstadt. Three days in Germany may not be a lot, but for us it was enough to speak of a tour.
Dirk went on ahead with a Ford Transit from Sloothaak Car rentals, filled to the top with a huge sound system we had bought second-hand from a professional band called Vitesse. The following day three or four orange and yellow Opel Ascona's and Opel Records left Amstelveen, carrying the band and a bunch of girlfriends and friends, heading for the big adventure. The borders were still closed, Schengen was still far away. Each car was turned inside out by the German customs officers. With German Gründlichkeit our passports were compared to the photographs of second generation fugitive RAF terrorists on posters sticked to the windows of the border offices. By the time the motorcade was allowed to pass we had to break even German speed limits in order to be on time for our first gig in Sinkkasten, Frankfurt.
It was a real triumph. The punkrock virus that had spread throughout the UK and the Netherlands the last two years seemed to have passed Germany. Symphonic rock was omnipresent and the audience found the progressive sound of Special Thanx supertoll. That was not all: on the second night, in Die Fabrik in Offenbach, bandleader Frans was approached by an American soldier yelling "You're absolutely fantastic, I will take you to LA!"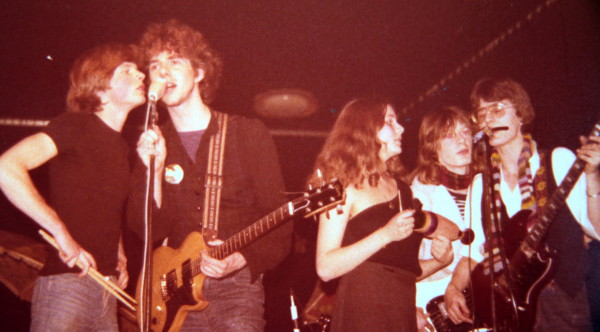 And so the caravan returned after three days. LA had to wait, because Dirk had organised a "homecoming" show, in Club Bellamy in Amsterdam, the day after. There we would celebrate our newly acquired international status with our home crowd, that without doubt would turn up in large numbers.
Club Bellamy was on the first floor of a 19th century building. The front door, the porch and the stairway were daubed with swastikas and other dangerous looking runes. By the time we had dragged the heavy PA cabinets to the stage, checked the sound, dined in the Chinese restaurant nearby and returned to Club Bellamy, we were greeted by the backs of not more than four visitors. It was a European Cup football evening. Behind the bar the TV was turned on, showing the preview to the match. The four regulars payed more attention to Ajax than to the progressive sounds of Special Thanx, the band that had just returned from a successful German tour. Afterwards the sour-faced social worker annex bar keeper presented an envelop to Dirk, containing two hundred and fifty Dutch guilders. That night, Club Bellamy had lost out. And to my recollection, so had Ajax.
October 2, 2015
---