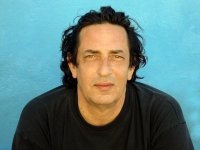 Onno van de Laak came from Brabant, from Vught to be exact. How we crossed each other's path, I don't remember. Did we put an ad for a sound engineer? Or did we meet him in a recording studio? Onno and The Dutch working together was not an obvious thing to happen. We were like they say in Holland "from above the rivers", Onno was from below (1). He had learned the tricks of the producers trade from Peter Koelewijn, and in the late seventies he was the sound engineer for Peter and his Rockets, when they toured the country. When we first met him he was writing a hit single with a song called "Hoe doet-ie dat nou" (2), whose refrain was, translated, "How does-he does-he does-he does-he does-he that thing". In other words, Onno was a commercial guy, much more than we were. Even so, he had a lot of interests. He liked The Dutch. And he had ideas about our sound. They could well be summarised in two words: "fat sound", pronounced in his Brabant dialect as "fat saaand".
In 1984 and 1985 Onno was responsible for the live sound of the band. During sound checks he used to spend just about half the time on the bass drum. When that finally produced the "fat sound", which meant that it sounded low and round, with a high tap, Onno stuck up his thumb with a sweep, indicating that the snare drum was next. Usually there was not much time left for the other instruments, but they were less crucial in Onno's universe. During our concerts, I often sought eye contact. We were totally won over by Onno's views about our live sound and when his thumb was up I knew he had it right.
In those two years we became very attached to that gifted, friendly and funny Brabo. We teased each other reciprocally. He found us far too serious, intellectual college kids we were, arty-farty. We tried to imitate his rocking arm gestures that, according to Onno, went with a good carnival hit, and we made fun of his taste of music. But man, did we love him. And we were so pleased with its technical expertise.
When The Dutch stopped (until our miraculous resurrection) we parted our ways. Onno continued to produce successful records. Willem van Kooten asked him as producer of the girl group Centerfold, and then also the Star Sisters and Patricia Paay. Two years later he made a single as a solo artist under the pseudonym Bruno Woolf, Forgotten Time. In the nineties, Onno went on and among others made a reggae version of Neil Young's Heart Of Gold.
In 2000 he moved to Ireland. Later he returned to Nijmegen. We had no contact with each other. Until 2012. That was the year when Wout de Kruif approached us. The plan was to re-master the recordings of The Dutch. And while doing that, why wouldn't we give it a try and start playing those songs again? Jan Klaas, Bert and I met with Wout and Onno one autumn night in October. Gradually Onno became more and more enthusiastic. In recent years he had been active mainly as a photographer. The prospect of working together with The Dutch again made him anxious and joyous. As the evening progressed our plans grew wilder and we were dreaming about Madison Square Garden again.
But it proved a false start. All of us were too busy with other things. It would take another year before the plan was back on the table again. In that year Onno died. The obituary that we received from his wife Karin took us by surprise. After hearing in April that he was suffering from an incurable illness, he chose for "quality of life", as they call it. And I'm sure he did. His last tweet was "al gaat die Froome nog zo snel, ons Bauke achterhaalt hem wel!!! # tdf13, #mollema #froome" (3).
I am truly sorry that we can not ask Onno to do our live sound. Never have we had such a fat sound as when he stood at the helm. And I miss his thumb, the way it swayed through the air.
---
(1) Dutch saying. People from "below the rivers" are in general more easy-going, often catholic, and flexible than people from the North provinces of the country, who are -on average- more surly, calvinist, and serious.
(2) "Hoe does he do that"
(3) "Froome may be fast, but our Bauke [Mollema] will overtake him"
November 12, 2015
---