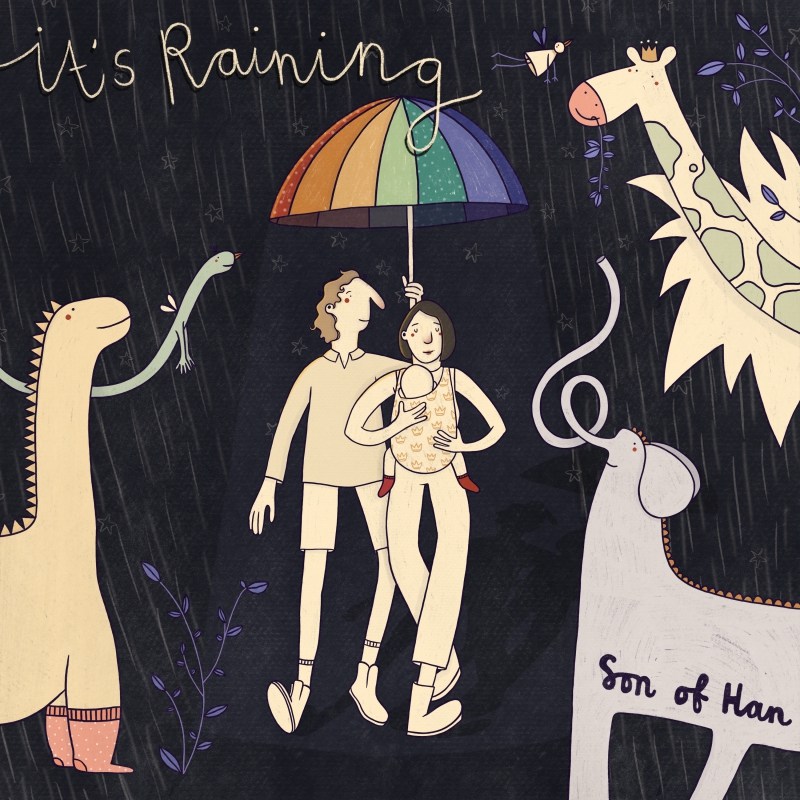 New single
Son of Han's fourth single, 'It's Raining', will be released on February 3, 2023. The original song by Rick Derringer dates back to 1973. Once a forgotten track on the album 'All American Boy', the song has been completely revamped and rearranged, played and sung by Son of Han. The song is also released in Dutch as 'Het Regent'. The animation video for 'It's Raining' and 'Het Regent' was made by Tessa van Vuren. The video is selected by the Cinekid ScreeningClub, the online showcase of the Cinekid festival 2023.
Son of Han on 'It's Raining':
"This song, from Rick Derringer's 'All American Boy' album, has been stuck in my head for decades. It's a simple song about finding shelter together during a storm. In the animation video, Tessa van Vuren and I translate that theme to 2023. My daughter and son-in-law are walking in the rain in Durham . Their baby Cian, my grandson, in a baby carrier. Under a rainbow umbrella, they traverse the magical world of that little one, for whom everything is new and exciting.
Our version is about love, security and boundless imagination. I completely changed the musical arrangement and beat from the original song. It was a lot of fun playing all the instruments this time, including the saxophones. Because Cian is raised bilingually, I decided to make a Dutch version in addition to the original English version. For me it was new and fun to sing in Dutch for once!
The rhythm, sound and atmosphere are perhaps distantly reminiscent of my previous single, 'Joan Miró'. I just have a thing for that childish fantasy world, and since the birth of my grandson I've been fully involved in it again. I hope that fascination comes across in Tessa's song and moving images."
Son of Han
Son of Han is the stage name of Hans Croon, singer/songwriter/guitarist with The Dutch. The Dutch, based in Amsterdam, experienced its prime time in the eighties with successful songs like 'This Is Welfare' and 'Another Sunny Day'. The band reunited in 2015 to release two full-length albums ('Four', 2016 and 'Solid Ground', 2022), two EPs ('Werkman', 2018 and 'Enter Sanctuary', 2020), and a number of singles and videos. See thedutchband.com for more information.
Son of Han's first solo project, in 2019, was 'Imaginary Western', a four track EP by Jack Bruce and lyricist Pete Brown. 'White Room' and 'Theme for an Imaginary Western' were also released as singles, with video clips on YouTube.
The third solo single 'Joan Miró', released in October 2020, is a homage to the Catalan painter Miró.
All Son of Han records are released on the Run the Story label.
 © Son of Han 2023
Contact:
sonofhan@runthestory.com, (+31) 6 50278932
Plug: Freakish / Kirsten Kleinfeld, pr@kleinfeld.nl, (+31) 6 51785530