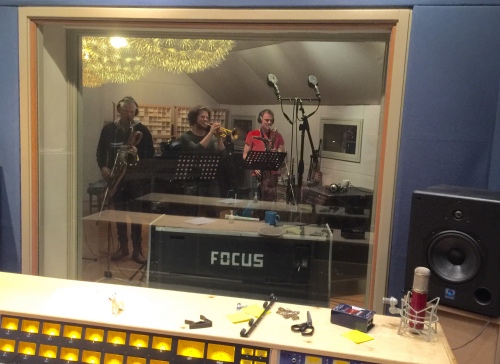 Jan tipped me about Soundbreaking, an eight-part TV documentary about producing. The first episode rushes through the history of popular music of the last 50 years. Fast fast it goes, from George Martin to Jeff Lynne, Brian Eno, Paul Epworth, to Dr. Dre and other men (for one reason or another, all men) who have put their mark on the sound of the music we hear on our car radios, iPods, cell phones and HiFi speakers. Halfway, Snoop Dogg mentions sampling techniques, how they have completely changed the recording process. Because nowadays, every musician with a laptop has a whole symphony orchestra under the buttons. Not only violins, trombones and pianos, also Moog synthesizers and ambient sound waves are only "a mouse click away." And you bet it is tempting to open up the candy shop!
If you happen to be in the middle of the recording process like we are, you'll notice that all those technical possibilities come with a risk. The sound becomes too perfect before you know it. Just like a photographer can make his model look slimmer and sleeker afterwards, you can correct everything in the music studio. You can change a piano into a marimba, change false vocal notes into pure and quantise the drums. But inevitably, there is a Faustian moment when the music loses its soul. Then you get the music for the millions that most radio stations play: immaculate synthipop manufactured by Scandinavian producers, according to a fixed formula, for sixteen year old singers and their fans.
We don't have any formula. Each song by The Dutch is so to speak asking for its own arrangement. Father needs horns in the verses, and You Can't Be Wrong cries for cellos and violins. How cool it is that these instruments can be conjured from a keyboard with a simple mouse click. No need to organise a string quartet every time you have an idea, like George Martin had to do for Eleanor Rigby. Let alone the symphony orchestra in Day In A Life.
But as I said, there is a downside. Samples can be beautiful. But a flesh and blood musician puts his personal signature, he colours outside the lines and his little mistakes give color and soul to your music. To cut a long story short, that's what it was all about in our third studio day.
The Wedgeview Studios house Thijs van Leer's original Hammond organ, an instrument that should only be treated with the utmost respect. Once I heard and saw Thijs playing that organ at the Royal Concertgebouw in Amsterdam with Focus, and it was pure magic. Bert knew how to handle it. He made the tone wheels gargle and groan and the Lesliebox hurled its sound relentlessly into the space room. When the record's out, you should listen to Money for proof.
After that, the horn section entered the studio. Bert and I occasionally play in a funk and soul band, Play FWD, and when we plan a great gig we sometimes ask Jeroen van Genuchten to join the band. Jeroen plays tenor sax in The Jig, a kind of funk machine. I asked Jeroen if he liked to play with the The Jig's horn section on three of our songs. Koen, the baritone saxophonist unfortunately wasn't free, but Wouter Schueler could come in his place. Wouter plays, among others, in the New Cool Collective. In short, with Luuk Hof on trumpet we had something like the Dutch Tower Of Power in our studio, whooop!
These guys asked the right questions: "Should we continue that note to the first beat, or rather let it die away?" Well, sir, composer, there you are. "Uh, let's try dying away. Or no, let's try both ways, would you?" And then they played: tight, disciplined and chunky. Behind the mixer we cheered when the verse of Brighton and Hove got the real James Bond suspense. A brass sample is nice, but this is the real thing! What Snoop Dogg may say.
I assume that in the 8th episode of Sound Breaking our own Wout de Kruif gets interviewed. Otherwise, the series is obviously worth shit.
April 18, 2016
---