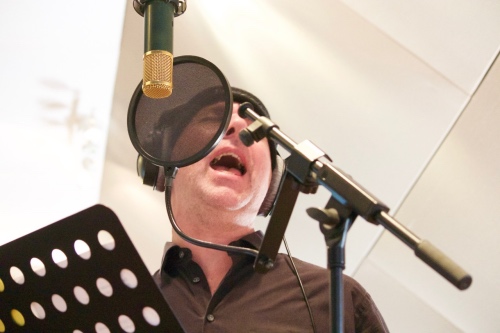 We are now in the final phase of the recording process, in which we do the vocals. To me as a singer, this phase may be the most tensive. I like to think my guitar skills are ok, and my songs are nothing less than sensational (did I already mention that?) but singing … that's something different. Sometimes in my dreams, a Paolo Nutini or Lowell George would nest in my larynx, but by the time I am reading a paragraph from the Volkskrant column by Sheila Sitalsing at breakfast, I hear my familiar rattle again. To be honest, I don't think I'm a born singer. Rather, a self-proclaimed one.
One of the forerunners of The Dutch was Special Thanx, an instrumental band. At some point we were asked to be the houseband of The Last Waterhole, when it was still located in the Amsterdam red light district. We wanted to gradually add some vocal songs to our setlist. Between the elongated jazz rock solos, songs like After Midnight and Cocaine popped up, both by our hero JJ Cale, and a funky house song that revolved around the self-written lyrics "At the Last Waterhole / sitting here / doing nothing at all." Someone had to sing those lines. Maybe I was just a little more alpha male than Bert, Klaas, Jan and Frans at the time. Huba was in any case too busy with her violin to also think of singing. I demanded the microphone just like Clarence Seedorf had once claimed the penalty kick. Being completely untrained, I screamed the words into the microphone. I leaned heavily on my bravado. Afterwards my voice was always husky. I took some singing lessons, and arrived at a higher state of confusion, as they say: now I knew you should "think the high notes down" and sing "from your belly". That did not help much though. I consoled myself with the idea that pop music is more about personality than technical skills. It seemed quite unlikely to me that Peter Hammill or Bob Dylan were actually "thinking down" their high notes.
So when Klaas Bert, Jan and I started The Dutch it was obvious who would be the singer. Moreover, I was all Sturm und Drang at that time and did not mind a false note here and there. For our first record Working at Los Alamos, we recorded a few songs that I still find special. Yet I can hardly listen to them, and that's because of the singer's voice. Is that really me? That guy with those weird intonations? Self-assertion and embarrassment: an abrasive combination. Indeed, it seems to be nothing special that I have a hard time listening to my own voice: lots of singers leave the room when their music is being played. Maybe it has something to do with the fact that your own voice sounds different to you compared to how others hear it, because the sound does not only resonate in the air in front of you, but also in your skull, on the other side of your eardrum. Just like your reflection in the mirror resembles the way you look on pictures, even though it's not exactly the same.
Later, I became more aware of my shortcomings, excuse me, of my strength, and on the third album of The Dutch, Under The Surface, the vocals sound acceptable, even to me. Maybe I was some kind of singer after all, in fact, maybe I was getting better!
For our new album we're recording the vocals in the Wedgeview Studios. A nice place in the rural town of Woerdense Verlaat, amid chickens, alpacas and a photogenic camper. Inside the studio hangs a gold-coloured AKG microphone with which I recently fought a grim battle. The cruel thing registers the slightest little vibrations and imperfections in my voice. Moments later the barren result of my vocal arts is ruthlessly reproduced by the studio speakers. My friends encourage me: well done, Hans! Excuse me, but I only hear a barren plain on which polyps and throat mucus have free reign. I can't wait until Wout de Kruif, our studio technician, has added reverb and delay effects to my vocal track to ease the pain, my pain. Only then the sun, that has heated the Woerden landscape exuberantly all day, breaks through in my head. It's going to be a fantastic album. I can hear that now.
March 18, 2016
---