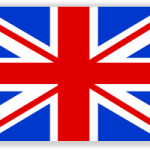 Wat hieraan voorafging: [link]
Een week na de bekendmaking van de Award van The Akademia kwam er een nieuwe mail. We werden nogmaals gefeliciteerd met het feit dat we uit een grote groep concurrenten waren uitverkozen. Later die week zou er een persbericht uitgaan naar duizenden platenbazen, A&R managers en uitgevers. Wij konden eventuele wijzigingen doorgeven. Ik klikte op het concept persbericht. Het had bijna dezelfde summiere inhoud als het permanente Award certificaat, behalve dat er nu bij stond dat The Dutch zou worden geëerd tijdens het komende Gala event in Los Angeles.
In de tussentijd kwam ik meer te weten over de zwendel. Hoofd Oplichter is Anwar Jamal Najmi. Het Akademia Team, dat naar eigen zeggen kan bogen op een jarenlange ervaring in de muziekbusiness, werd door Anwar samengesteld uit zes senior platenbazen, allemaal geselecteerd op basis van integriteit. Bij nadere beschouwing: zijn vrouw Roujeanne, zijn broer Daniel, zijn moeder Virginia, zijn vader Mohamed ("Dr Naj PhD") en nog wat onduidelijke figuren. Anwar en Roujeanne Najmi zijn samen de spil van de band Millennium, maar hun familieleden hebben geen enkele ervaring in de muziekindustrie. Daniel, de broer, weet als voormalig ontwerper van erotische speeltjes misschien iets van microfoons.
Nog meer belastend materiaal. Iemand heeft de internet archieven doorgeploegd om meer over de geschiedenis van The Akademia te weten te komen. The Akademia startte in 2008 niet als een muziek instituut, maar als een universiteit. Een universiteit voor maximaal 1000 excellente studenten die voor $ 35.000 per jaar worden klaargestoomd om de toekomstige leiders van de wereld te worden. Een soort Trump University dus, met als eerbiedwaardige hoogleraren Anwar ("Executive Director and Professor of Physical Studies, Martial Arts and Fitness"), zijn vrouw Roujeanne ("Executive Director and Professor of Physical Studies, Yoga and Fitness") en zijn vader Mohamed ("Academic Provost and Professor of Sociology"). Tussen 2011 en 2013 veranderde The Akademia van een online universiteit in The Akademia Music Awards en werden de oprichters en hoogleraren plots hotshots uit de muziekbusiness. Da's toch knap.
Een dag later een nieuwe e-mail. Ditmaal het "Strategic Plan". Op basis van nauwkeurige bestudering en interne discussie was het executive team eruit: het plan bestond uit zes ronkende paragrafen, van "radio", "pers", "video", "film en televisie licensing", "global DJ servicing" tot "live performance". Het team was een beetje kort van memorie, want in paragraaf 3 stond "If you have not yet produced a video for your single, we will help you put a plan together to make this happen." Slordig.
Hoe dan ook, nu hoefden we alleen nog maar een verbintenis voor twaalf maanden aan te gaan, voor $ 49,95 per maand. Zonder incasso: $ 74,95.
Enthousiast mailde ik terug.
---
Dear Akademia Team,
Thank you for the Strategic Plan that you composed for The Dutch. It sounds very interesting! However, as you say, it is a general outline and I'm sure the plan needs some fine-tuning. To give one example: in this draft version of the plan, you suggest to help us put a plan together to produce a video for our single, in case we haven't done that already. That seems a bit odd, because The Dutch won an Award in the category "Best music video in Alternative Rock". 
So let's schedule a meeting by Skype or Google Hangouts to discuss the next steps and make the Strategic Plan more geared to our situation and needs. We would like to get to know the group of knowledgable executives you put together to guide us. It would also be a good opportunity for you to acquire more information about the band, which I'm sure is crucial for the success of any marketing campaign. 
One last question for now: I could not find the list of award winners for November on your website, is that still coming?
Kind regards, 
Hans Croon
The Dutch
---
Nu ik toch bezig was, kon ik het blijde nieuws ook wel meteen aan "Cynthia Miller" sturen, de baas van WCTR Radio Chicago die ons maanden geleden had getipt.
---
Hi Cynthia Miller,
Just a little message to let you know we followed your advice and guess what, on the day our new album 'Four' was launched, our video 'Fine Shields We Are' was awarded best music video in Alternative Rock by The Akademia. So thanks again and we hope you will play the song on WCTR Radio Chicago.
Best regards,
Hans Croon
The Dutch
---
Hierna volgden nog allerlei e-mails: we kregen een perspex Award aangeboden voor slechts $ 129,95; we werden uitgenodigd voor het Gala Event op 20 april 2017 in de Rose Bowl Courtyard Of Champions in Los Angeles. Cynthia Miller (achter wiens naam ongetwijfeld moeder Virginia, "client service manager" schuilgaat) stuurde een felicitatie. En er kwam een reactie op mijn ik-doe-of-mijn-neus-bloed mailtje. Het Strategische Plan was flexibel, moest nader uitgewerkt worden etc. Verder werd verwezen naar de pagina waarop de leden van het Akademia Team worden voorgesteld: Anwar, Roujeanne, Daniel, Virginia etc. Uiteraard allemaal zonder achternaam (Najmi). Geen woord over een Skype meeting en het ontbreken van de lijst met winnaars, ook niet toen ik er nog eens naar vroeg.
Er kwam een nieuwe mail met ronkend nieuws: de programmadirecteuren van de radiostations van de "Berkshire Media Group" wilden ons liedje Fine Shields We Are draaien. Uiteraard moesten we dan wel uiterlijk 15 december ins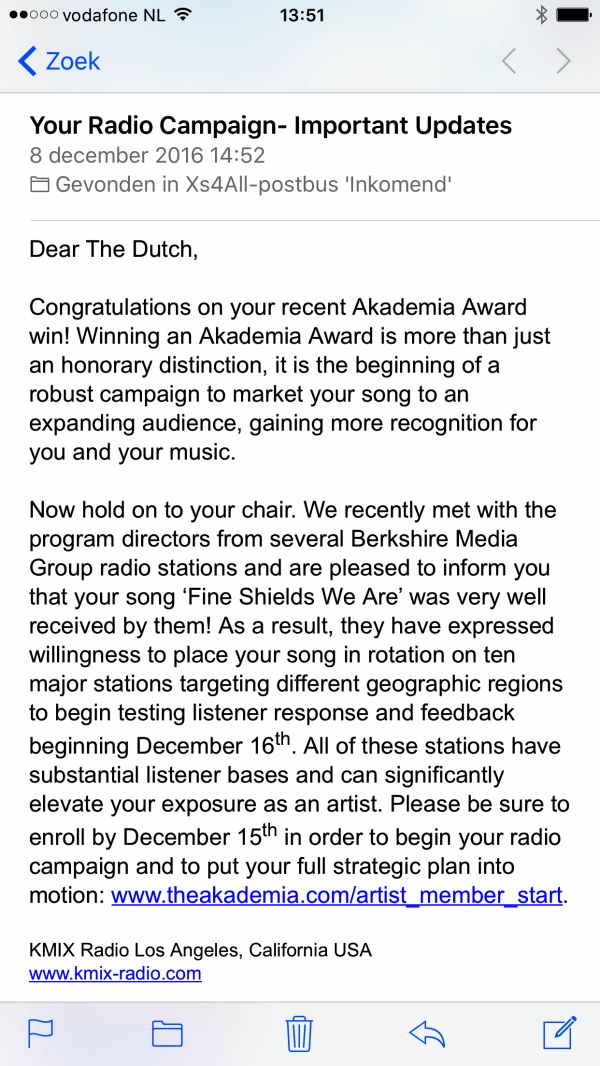 chrijven bij The Akademia. Eronder stond een lijst met 10 online radiostations, zogenaamd gevestigd in meerdere Amerikaanse staten, in Japan, Brazilië, Australië en Engeland. Alle websites zijn hetzelfde van opzet: vier pagina's (home, playlist, contact en mobile) en een knop "news", die leidt naar een externe link: bij "WLDN Radio London" een link naar The Sun, bij "WMIC radio Miami Florida" naar de Miami Herald, etc. Ieder station zendt een ononderbroken stroom muziek van de "members" uit, waaronder
natuurlijk die van Millennium, de band van Anwar en Roujeanne Najmi. Tien radiostations, nul luisteraars. En de Berkshire Media Group is een nietsvermoedende krantenuitgever uit Berkshire, UK. Een andere Berkshire Media Group bestaat niet.
Eerlijk gezegd stelde de armoedigheid van het bedrog me licht teleur. Zo was er geen lol aan. Ik besloot een eind aan te maken aan de masquerade.
---
Re: Your Akademia Strategic Plan- Important
Dear Anwar,
Thank you once again for your latest e-mail. After a short discussion we decided not to take your offer. However, we are still interested in some of the services your team seemed to offer in the past. Please let us know if these are still part of your impressive portfolio. Our drummer Klaas, who is always on the lookout for new tricks with his drumsticks, likes to know more about your lessons in martial arts; Bert, our keyboard player, is heavily interested in following one or two courses in yoga by your wife and #girlboss Roujeanne; Jan, our bass player, is a real sociology guy and feels he can learn a few things from your dad, Professor Dr Naj PhD; and me myself, I have to say I am anxious to know if your bro Daniel is still developing new erotic toys.
As for The Dutch, we are planning to release a cover song as a single the next few months, and we're still uncertain if it's going to be The Royal Scam by Steely Dan or Family Affair by Sly and the Family Stone. What do you think?
All the best,
Hans Croon
16 december 2016
Bij het schrijven van deze blog heb ik o.a. gebruik gemaakt van een aantal hilarische YouTube video's van Steven Angulo die Diana Uludag mij toezond. Zie bij voorbeeld:
---