What preceded: [link]
A week after the notification of the Award by The Akademia, there was a new e-mail. We were once again congratulated on the fact that we had been given this recognition amongst a large group of competitors. Later that week, a press release would be issued to thousands of music executives, A & R managers and publishers. We could pass any changes. I clicked on the draft press release. It was almost the same as the permanent Award Certificate, except that now a line was added saying The Dutch would be honored at the upcoming gala event in Los Angeles.
In the meantime I had gathered more information about the scam. Head crook is Anwar Jamal Najmi. The Akademia Team, which claims to be the result of many years of experience in the music business, was composed by Anwar of six senior music executives, selected on the basis of integrity (!). On closer inspection, they were his wife Roujeanne, his brother Daniel, his mother Virginia, his father Mohamed ( "Dr. Naj PhD"), and some indistinct figures. Anwar and Roujeanne Najmi themselves form the band Millennium, while their family members have no experience whatsoever in the music industry. Daniel's brother, who according to the web archives used to be a designer of sex toys, might know a thing or two about microphones though.
Even more incriminating evidence. Someone plowed through the Internet Archives to find out more about the history of The Akademia. In 2008, The Akademia started out not as a music institute, but as a university. A university for up to 1,000 excellent students who are prepared to pay $ 35,000 per year to become the future leaders of the world! A kind of Trump University, with the venerable professors Anwar ( "Executive Director and Professor of Physical Studies, Martial Arts and Fitness"), his wife Roujeanne ( "Executive Director and Professor of Physical Studies, Yoga and Fitness") and his father Mohamed ( "Academic Provost and Professor of Sociology"). Between 2011 and 2013, the Akademia changed from an online university to The Akademia Music Awards, with the founders and professors suddenly becoming hotshots from the music business. Isn't that remarkable.
A day later, a new e-mail. This time the "Strategic Plan". Based on careful study and internal discussion, the executive team had developed a plan consisting of six throbbing sections, from "radio", "press", "video", "film and television licensing", "global DJ servicing" to "live performance". The executive team proved it suffered from a short memory, because in section 3 it said "If you have not yet produced a video for your single, we will help you put a plan together to make this happen." Understandable, with so many different Awards … Now all we had to do was make a commitment for twelve months, for $ 49.95 per month. Without direct debit: $ 74.95.
This was my reply.
---
Dear Akademia Team,
Thank you for the Strategic Plan that you composed for The Dutch. It sounds very interesting! However, as you say, it is a general outline and I'm sure the plan needs some fine-tuning. To give one example: in this draft version of the plan, you suggest to help us put a plan together to produce a video for our single, in case we haven't done that already. That seems a bit odd, because The Dutch won an Award in the category "Best music video in Alternative Rock". 
So let's schedule a meeting by Skype or Google Hangouts to discuss the next steps and make the Strategic Plan more geared to our situation and needs. We would like to get to know the group of knowledgable executives you put together to guide us. It would also be a good opportunity for you to acquire more information about the band, which I'm sure is crucial for the success of any marketing campaign. 
One last question for now: I could not find the list of award winners for November on your website, is that still coming?
Kind regards, 
Hans Croon
The Dutch
---
Now that I was at it, I might as well send the good news to "Cynthia Miller", the so-called Program Director of Radio WCTR Chicago who had tipped us months ago.
---
Hi Cynthia Miller,
Just a little message to let you know we followed your advice and guess what, on the day our new album 'Four' was launched, our video 'Fine Shields We Are' was awarded best music video in Alternative Rock by The Akademia. So thanks again and we hope you will play the song on WCTR Radio Chicago.
Best regards,
Hans Croon
The Dutch
---
Hereafter my mailbox was spammed with all kinds of e-mails: we were offered an Award plaque for only $ 129.95; we were invited to the Gala Event on April 20, 2017 at the Rose Bowl Courtyard Of Champions in Los Angeles. Cynthia Miller (no doubt mother Virginia, the "client service manager") congratulated me. Also, there was a reply from the Akademia Team to my e-mail, saying the Strategic Plan was flexible and could be elaborated etc. Further reference was made to the page where the members of the Akademia Team are listed: Anwar, Roujeanne, Daniel, Virginia etc. Of course, all without surname (Najmi). No word about a Skype meeting, nor the absence of the list of winners, even when I asked for it again.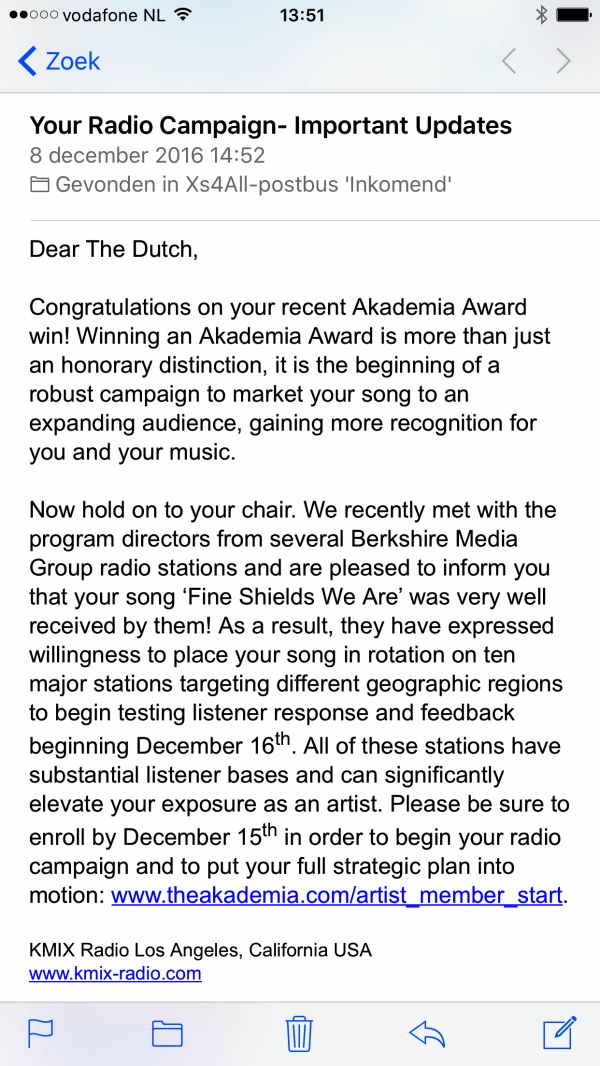 There was a new e-mail with breaking news: the program directors of the radio stations of the (by the way non-existent) "Berkshire Media Group" wanted to broadcast our song Fine Shields We Are. Obviously we had to enroll by 15 December. Included in the mail was a list of 10 online radio stations, supposedly located in several US states, Japan, Brazil, Australia and England. All websites have the same layout: four pages (home, playlist, touch and mobile) and a button "news", which leads to an external link: on "WLDN Radio London" a link to The Sun, on "WMIC radio Miami Florida" a link to the Miami Herald, etc. Each station transmitting a continuous stream of music from the members, among whom of course Millennium, the band of Anwar and Roujeanne Najmi. Ten radio stations, zero listeners.
Frankly I was a bit disappointed by the shabbiness of the whole scam. It was all too obvious. I decided to put an end to the little masquerade.
---
Dear Anwar,
Thank you once again for your latest e-mail. After a short discussion we decided not to take your offer. However, we are still interested in some of the services your team seemed to offer in the past. Please let us know if these are still part of your impressive portfolio. Our drummer Klaas, who is always on the lookout for new tricks with his drumsticks, likes to know more about your lessons in martial arts; Bert, our keyboard player, is heavily interested in following one or two courses in yoga by your wife and #girlboss Roujeanne; Jan, our bass player, is a real sociology guy and feels he can learn a few things from your dad, Professor Dr Naj PhD; and me myself, I have to say I am anxious to know if your bro Daniel is still developing new erotic toys.
As for The Dutch, we are planning to release a cover song as a single the next few months, and we're still uncertain if it's going to be The Royal Scam by Steely Dan or Family Affair by Sly and the Family Stone. What do you think?
All the best,
Hans Croon
December 17, 2016
Writing this blog I made use of several hilarious YouTube videos by Steven Angulo exposing The Akademia as a scam, sent to me by Diana Uludag. See for instance:
---