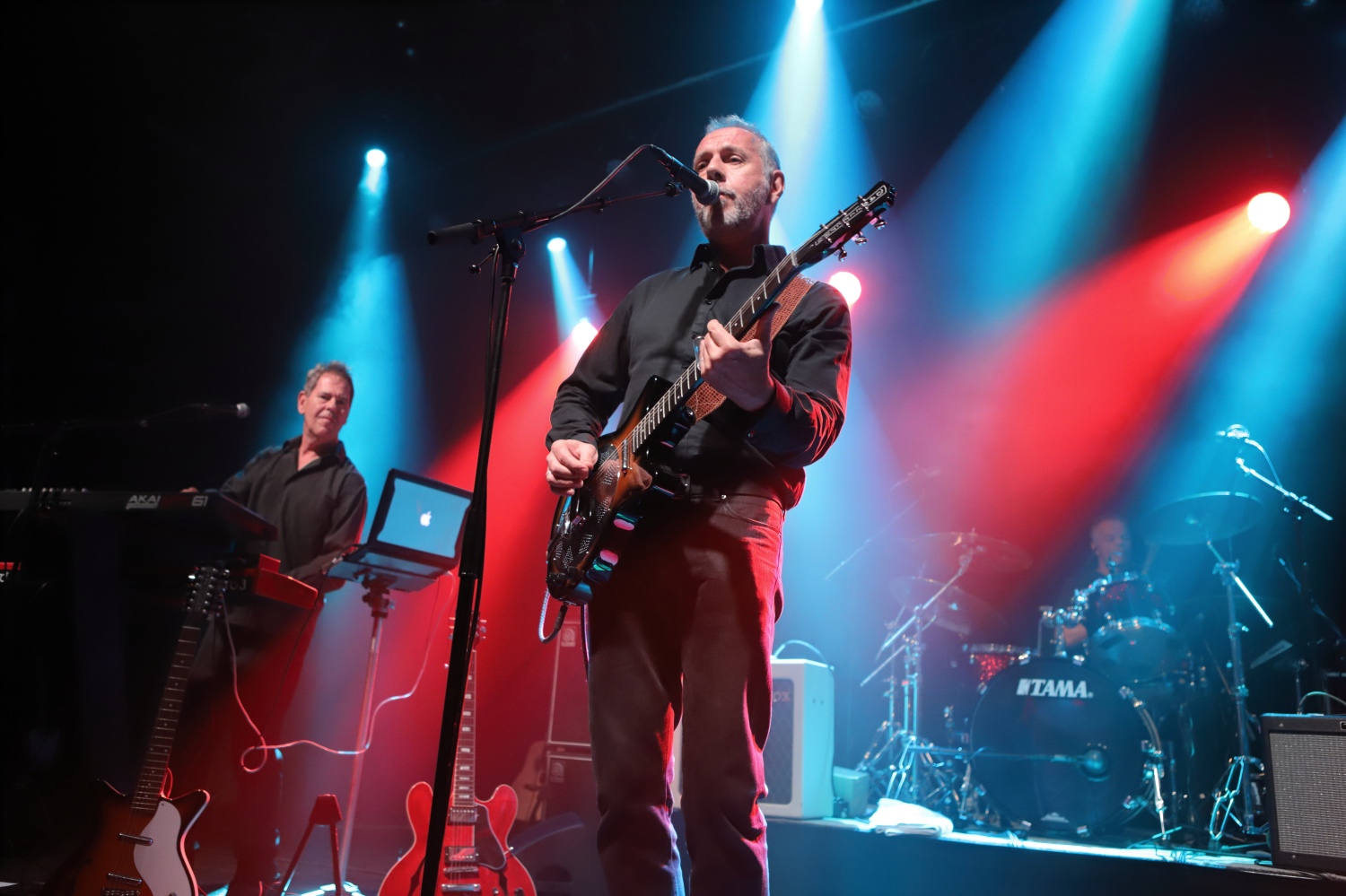 The Boerderij in Zoetermeer has an excellent name among musicians worldwide. Take a look at the agenda and you'll notice immediately: internationally renowned musicians come from far and wide to visit the concrete Zoetermeer landscape. We played as a support act for Liverpool heroes China Crisis and we can confirm: Cultuurpodium Boerderij is in no way the shabby youth center we have been playing long ago, where the air smelled from stale beer and local youth qualified in the noble game of table football, wrapped in a cloud of marijuana smoke. The old Boerderij had been a real farm, outside the city suburbs, I remember the weeds all around. The new Boerderij has kept its old name, but is now located in a modern building, next to the Voorweg Hoog train station.
The reception is most cordial. Upon arriving, a shy boy is waiting for us to carry the instruments and stuff to the stage. You want to leave your cars in front of the loading dock? Yes, that's fine. Then the floormanager greets us and we will have a tour through the concert hall, the cafe, the (clean) dressing room. Then to the stage, for set-up and sound check. Beginning, of course, on time. The staff responsible for the PA, monitoring and light show are helpful, creative and they know their subject. At half past six the food is served. It tastes well, and there is even a pancake with vanilla ice cream and cherry sauce for the dessert lovers. In between, we are kindly reminded in case we forgot to make a guest list.
No hassle about playing time, no stress on stage, no sympathetic volunteers who don't have a clue about anything. Everything hunky-dory. And good stuff. All that attention pays out: we feel fine, play well and the audience is excited. Maybe with the exception of one lady.
On that subject, in September, during a concert in Brighton, I once again noticed how much English rock audiences respect bands. Not only did they cheer the headliner, Alt-J, but also the support act Blaenavon was greeted with collective and intensive politeness. Unfortunately, it is often different in the Netherlands. Chatting at the bar is not in itself all that tragic, but if the lack of interest gets a face in the light beams at the edge of the stage, your state of mind can still be reversed. That warm welcome, that relaxed professionalism, they can just be eliminated by one person. I did not see the lady in question, but Jan the more.
I would therefore like to give the management of Cultuurpodium Boerderij one tiny suggestion. Perhaps it's an idea to hang a sign on the concert hall door with the text:
Dear people, enjoy the show and please do not go sitting your horny ass on the edge of the stage just in front of the artists, to check your Facebook timeline for 45 minutes.
November 1, 2017
---