All American Boy
The song I just released was written by a Trump fan who was caught with a loaded gun on a flight from Cancún to Atlanta 6 years ago. I've had Rick Derringer's All American Boy album since 1973, but little did I know. Wikipedia is relentless in that regard: its impressive list of facts illustrates a life of ups and downs. The ups especially at the beginning of his musical career, the downs more at the end.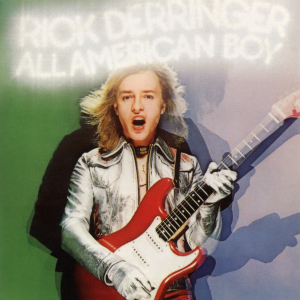 You can't help but respect Rick knowing that he was one of the guitarists endorsed by Donald Fagan and Walter Becker, aka Steely Dan. Most of the guitarists who applied were rejected ruthlessly or even laughed outright by Fagan and Becker. Not Rick. The singer/guitarist of The McCoys (Hang On Sloopy!) has worked together with great artists such as Todd Rundgren, Barbra Streisand, Cindy Lauper, Meat Loaf and Johnny and Edgar Winter and has toured with Ringo Starr. In 'It's Raining', Jean 'Toots' Thielemans plays a harmonica tune. And so the list goes on and on.
Gradually, little facts creep through that mother Derringer was probably less proud of. That starts around the turn of the century. He becomes an evangelical Christian, "Jesusfreak" in his own words, and an enthusiastic advocate of right-wing beliefs. Like I told you, I didn't know. When Rick and his wife Jenda, plagued by debt, discover in 2013 that the two best-selling songs of all time are Chinese, they record them under the name Ricky Wu and Jenda Tu (366 monthly listeners on Spotify).
Five years later, that loaded gun. Rick is fined and promises never to do it again ("Not even a water gun!"). That same year, he was interviewed by none other than Roger Stone on Alex Jones' radio show, about his support for Donald Trump.
A new version of It's Raining
And now we can get ready for what could be Rick's finest hour: the worldwide release of his 'It's Raining' in Son of Han's version, in English and Dutch. Without Toots Thielemans, but still. I swear Son of Han didn't know about Rick's MAGA sympathies and musical hustler existence after 1973. And what does that knowledge matter anyway? I might as well drift away on the operas of the anti-Semite Richard Wagner. Compared to Wagner, Rick Derringer is a snowflake. Anyway, It's Raining isn't Tristan and Isolde either. Nevertheless a tune that has survived for 50 years. At least in my head.