My friend V. said the other day: "Jack Bruce is a hero". But what a strange hero. He wrote impossible melody lines, weird chords, his voice sometimes sounded shrill like school chalk on a blackboard, he played the bass guitar like a solo guitarist, and most of his repertoire is only listened to by diehard fans. Nevertheless, a hero. Had he only written White Room, he would have earned a tile in the Rock & Roll Hall of Fame.
White Room is such a song that can go through my head for days, with those black curtains, tired starlings and yellow tigers. It is the only cover that we ever played with The Dutch, sometimes in an encore. Friends wondered why: White Room is rock, the song doesn't quite fit in our repertoire. And yet we have never wasted many words on it. That intro with that five-quart time measure, the associative flow of words: we felt akin to Jack Bruce and his lyricist Pete Brown.
There are more brilliant songs. Sometime in the seventies I bought Out of the Storm (which, strangely enough, was also released with the title Into the Storm, that's what it's called on Spotify). It was his fourth solo album. I was crazy about it for a while. Especially on the seventh track, One. The live performances of that song, which can be heard here and there, are often played a bit sloppy and uninspired. But the studio version is beautiful, with a leading role for the Spanish guitar. I've plucked those chords half my life, at home on the couch.
And then there is that other highlight, Theme for an Imaginary Western. It was played by Mountain at the Woodstock festival. The guitar solo is by Leslie West, with whom Bruce would form the "supergroup" West, Bruce and Laing a few years later. That was Bruce's second "supergroup" after Cream, with Eric Clapton and Ginger Baker. It was the time of the super groups.
For unclear reasons, in Mountain's version, the word "for" in the title has been replaced by "from". The versions of Jack Bruce and Mountain are very similar. Chords and melody seem insidiously simple but hey, you can also say that about God Only Knows. Yet the song cannot be compared to anything and has a magical effect on me.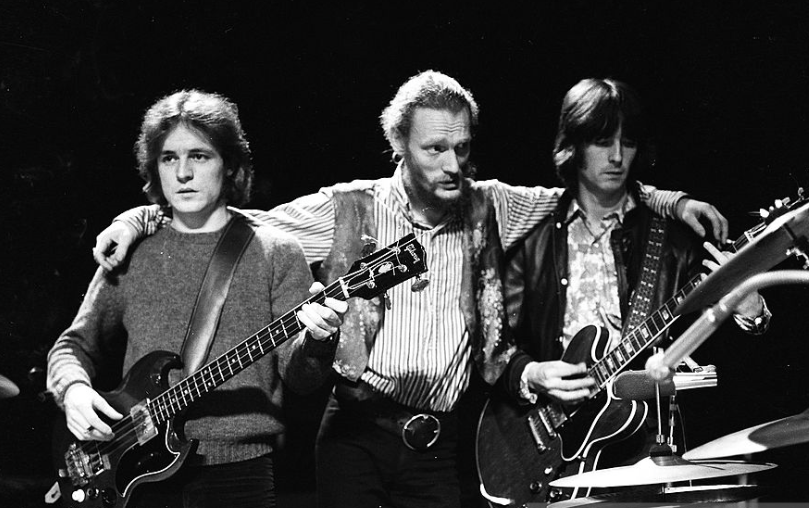 On October 25, 2014, five years ago, Jack Bruce died. He was, of course, given the praise that came to him as one of the heros of rock music. There is a fan page on Facebook where old videos and photos are regularly shared. Yet his music threatens to disappear along the way: apparently too complicated, inhospitable, dated, too poorly recorded, too, to appeal to new generations. Theme for an Imaginary Western has only been listened to 286 thousand times on Spotify. This Is Welfare is two thirds. Nothing to the detriment of our own repertoire, of course, but that is not enough honor for Jack.
That's why I have recorded four songs that will be released on 25 October, under the artist name Son of Han, as a tribute to Jack Bruce and Pete Brown: White Room, Theme for an Imaginary Western, One and Can You Follow, another incomprehensible song. One and a half minute wonder.
I have tried to give those songs my personal touch. I called Pete Brown, the lyricist, during the recording process. He really liked my versions, especially One:
"I think I like 'One' best because it's very challenging and doesn't get covered much."
Pete also told me that the "And the music when they played" line in Theme for an Imaginary Western should be changed to "And the music when they met". He had offered it to Jack Bruce at the time, but hey, he was so stubborn … Obviously I gave Pete his way in my version.
I also played the four songs from Imaginary Western to Bruce's wife Margrit Bruce Seyffer and daughter Natasha Bruce. They wrote:
"We have listened to your recordings and think they are great. We welcome artists keeping Jack Bruce's wonderful music alive. It is lovely to listen to Son or Han's interpretations or some of Jack's classic songs."
White Room will be released as a single on October 18, together with a music video that I made with Monk Dagelet and Jan de Kruijf. You can listen to Imaginary Western from 25 October, as a cd or online. Enjoy!
Son of Han, October 2019
---
You'll find more information in the press release.
Back to the blog page